Posts Tagged 'Katie Snyder'

Stop by and check out the  NEW Sound and Fury Message Boards.  It's a full service site: soaps, music, the arts, science, politics, you name it!  Simply click the Sound and Fury icon to the left.
*********************************
The way to this girl's heart  is through her favorite soap character… or at least through halfway decent writing!  I was THRILLED, today, to hear Clint and Nora mention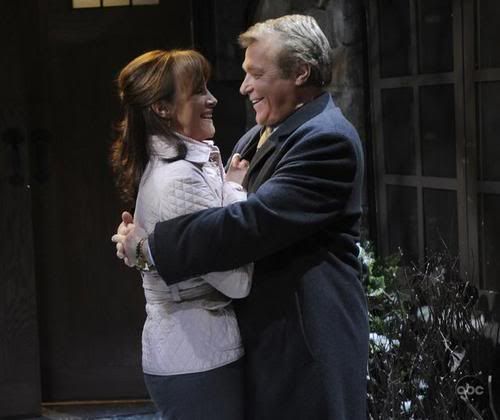 something they rarely talk about – their familial past.   It was such an organic moment and so perfect, that I watched it twice.  Given the closeness of Bo and Nora, I've never been able to really root for Clint and Nora,  but today I 'got it'.  I realized what made them special.  There's a realism with Clint and Nora that most other couples lack.
Some couples have to be heavily in love – hot and steaming just to sell themselves (nice try DAYS' Ej and Sami – no sale).  Others have to be angry and bitterly fighting to prove their passion (yes, I'm talking about YOU GL's Bill and Lizzie).  Clint and Nora just have to 'be'.  When Nora asked Clint if he ever thought about why they were together, if they belong, if they were meant to be – his response floored me.  He said that since she is his ex sister-in-law, some would say they didn't belong together at all.  I love when soaps acknowledge the ookyness that so many of us are feeling when they have siblings (or mothers-daugthers, fathers-sons) swap partners.
Yeah, I cried a little… ok, I would have under other circumstances, but you get the point.  It was such a sweet 'us against the world' moment that no matter what happens with Clint and Nora, I'll always have that one perfect day with them.
Listen carefully, ATWT's writers.  THAT'S how you write a mature romance.  This whole thing with Blondie/Jack/Janet just makes me want to pluck my eyes out with Katie's chopsticks, I tell ya'!  In essence, Jack has reduced his 'special' time with Carly  to a good roll in the hay, something he can't get over or stop wanting.  They have a 'chemical attraction' says the mighty Jack(ass)   I thought I was being too harsh on Jack, yesterday.  NOW?  I realize that I've given him TOO much credit all along. Carly loves that pinhead with her whole heart.  She wants Jack even when she can't be with him physically.  My entire gripe about Jack  has
been that when he's in pursuit of another woman, he reduces Carly and his time with her to almost nothing.  Today, he's outdone himself.
Oh, and who didn't see the mugging coming a mile away?  Guilt guilt guilt…Jack will work even harder to make Janet happy — while sneaking off for 'chemistry lessons' with Carly. Janet doesn't want to be Jack's consolation prize, but dear writers, I'm starting to feel as if Janet is OUR consolation prize.  I'd rather see more of a focus on CARLY's happiness and having her finally have a place where she feels she belongs, with someone who finally and truly loves her.  Janet?  Not so much.  I still just don't care.
You've at least made up for shoving Janet at fans by giving us Henry and Vienna, Katie and Brad.  We even got to see Bob and Kim (even if it was under pretty sad circumstances).  Letting Chris Hughes go?  What are you THINKING, PTB? That dude had 'walking fantasy' written all over him (at least, that's what the sash he's wearing says when he's in MY dreams).
Speaking of dreams,  GH left me pinching myself to make sure I wasn't seeing things.  Lainey LIVES!  She's so rarely seen that I'm always thrilled when there are any Lainey sightings on deck.  I still mourn for the loss of Justice Ward when I see her, and wonder why the writers no only ended his short life the way they did, but then treated his relationship with Lainey as 'no big thing'.  It was so sad to hear her say that she wasn't really close to Justice, but that she still felt bad about his death.  OUCH!
Oh, and excuse me, but was that REALLY Maxie showing genuine sympathy towards Lulu, and willing to taking on psychopathic papa Zacchara to help Lulu out?  Not only has Kirsten Storms made Maxie HER character with her interpretation of who Maxie Jones-Scorpio is and should be, she's given the character such a wonderfully sharp edge.  I don't mind seeing that edge occasionally softened.  Today, I didn't know who to feel sorrier for, Lulu or Maxie.  Maxie stopped caring about anyone other than herself long ago.  She seemed almost as lost as Lulu.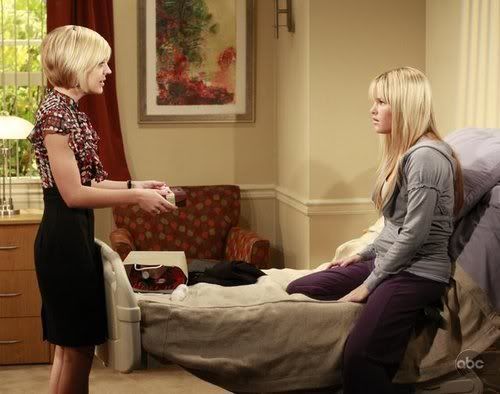 To see her give a damn about Lulu's condition, enough to take on old man Zacchara in order to make sure that Lulu could see Johnny, gave me hope for the character. It gave me hope that the writers would continue down the path of creating a multi-layered ingenue fans would come to appreciate for years to come.  Well done, Kirsten, well done!  Oh, and Maxie's new look, the mini-Kate Howard look, is working for her.
Katie/Connie is going to need Maxie's adoration by the time Sonny finds out that she lied about his child and has been keeping Olivia's secret this entire time.  Someone set up the barware, it's time for Sonny to start smashing things!
How interesting that Katie/Connie places such a high premium on honesty… and has been able to look Sonny in the eye this entire time, knowing the secret she's kept from him.  I can't wait! Should we place bets on whether Carly finds out before anyone else and torments Katie/Connie and Olivia?  Are we taking bets on whether the earlier rumors are true and Spinelli is Sonny's long lost son, after all?
There are soap events I never expected to like (or hadn't even thought about) until they happened:
YnR -  I love the Victor/Nikki dynamic, when it's not abusive on his end.  I love that Nikki feels something so deep for Victor that it hits her so unexpectedly that she has no idea what to do with it.  Victor's boat washes ashore and Nikki begins drinking again thinkng the great man, himself, is dead. KUDOS to the writers.  Even though they somehow managed to forget about Victor's vasectomy and had him get Sabrina pregnant, they made good use of Nikki's earlier troubles with alcoholism.  I can't wait for the promised fireworks when Mr. Mumbles and Nikki are reunited.  You know he's going to break the magical spell MTS' Nikki is casting and he'll be total bastard to her.   More is the pity.
Nikki's drunken rants to Katherine?  PRICELESS.  That's when you know who your real friends are, and the friendship between these two women is legendary. Not many women in daytime are written as having long-term friendships. The writers deserve credit for realizing how perfect this one is.
General Hospital.  It's been difficult for me to see Sonny as a leading romantic lead since the end of Sonny-Brenda, and then Sonny-Carly.  Every other woman he's been with is just another putrid shade of 'Agent Hannah Scott' – Oh the horror.  I don't know WHY it works, but Sonny and Kate work wonderfully well.  There's an 'almost' respect Sonny has for Kate that he hasn't had for any other woman.  He's softer with her, more gentle.   She's less obnoxious with him.  The relationship with Kate hasn't changed my mind about Sonny or Kate, individually.  They both drive me batty, but together they have something new and different.
I also love the new dynamic between Carly and Jax.  She's working hard to stop him from becoming a grumpy old man, and he's working hard to help her grow up before her children do.  They feel like an old married couple,  with a lot of hot passion.
Guiding Light… <sigh>  I despise 'G'.  Grady is a boil on the butt of daytime.  YET, I gotta admit to being mildly entertained by his call to the police to report Rafe.  If only the cheesy one-cop-with-a-bullhorn scene hadn't followed.  The house was surrounded?  Really?  Next time?  Spring for a full police force.  Grady phoned in a call about hostage taker loaded to the nines.  There should have been a SWAT time surrounding the place.  I actually changed the channel after watching that scene, and almost forgot to tune back in.  Glad I finally remembered that GL was on,  because I enjoyed watching Grady snicker while he held Daisy - pretending not to know about Rafe being arrested. 
Ah… if only he hadn't been such a lowlife when he was first introduced.  Attempted rape, and then murder is something very few characters have been able to come back from.  I don't see Grady as being one of those who will make a come back.  Too much has happened and the writing for him is too weak.   I have a feeling the conflict between Cyrus and Grady is setting the stage for his departure.  Cyrus is finally opening his eyes to what sort of person his brother is.  At some point, Cyrus will have to set aside his guilt over not being around for Grady's childhood, and he's going to have to turn on him.  Oddly enough, I'm looking forward to that day (assuming the writers eventually get it, that it has to happen in order to save Cyrus).  I'm not looking forward to it JUST to get rid of Grady, but because any conflct scenes between these two brothers has to be explosive!
As The World Turns.  Seeing Lucy Walsh onscreen more than once a week?  I never expected to see it happen again in my life time.  Thank you writers.  Watching La Walsh fall for yet another sleazy guy in the workplace?  No thank you, writers.  I'm hoping Lucy picks up on Brian's act and nails him before… he nails her… ah!  You knew that was coming.  Kudos to those who viewers who've suggested that Brian COULD be Craig, with reconstructive surgery.  I don't know how to feel about that (since Scott Bryce and Hunt Block are the only actors I've been able to love in the role).  I'd love to have Scott Bryce back if Craig resurfaces. 
I <gulp> liked Holden and Carly's date.  I liked that it was so awkward.  I liked the fact that Holden tracked Carly down when she ran out on him, to prove to her that what they have is real.  It's the first decent thing Holden has done since this wacked out relationship began.  I'm starting to believe that Holden's feelings for Carly are real and that it's not just about sexual gratification for him.  Having him show up at Carly's and refuse to give up on their relationship, for just a moment, reminded me of 'Holden the stable boy'… hot, smoldering, and irrestible… 
ATWT fans are clamoring for a Katie-Brad baby.  When would they find the time? Katie and Brad have been pretty busy raising Liberty and protecting her in way that her mother can't, or won't.  They've proven themselves to be the great parents (much like Tom and Margo or Kim and Bob).  I get it, Katie/Brad fans, I get it.  I'm with you.  I'd love to see these two focus on their family and have children.  There's something special in the relationship between these two characters.  I'd love to see MORE Katie and Brad, LESS Jack and Janet and LESS Liberty and Parker.
One Life to Live – Two pathological people.  Double the mayhem?  Double the trouble?  No, double the fun!  Todd and Tess, the uncle niece from hell.  There's an obvious connection that Tess and Todd have that Jessica and Todd could never have.  If only they weren't working hard to cover up the fact that Todd is hiding Marty – that's just creepy on both ends.  Tess felt she was 'held captive' when Jess resurfaced – not a twinge of sympathy for Marty?  Oh well.  Hey, writers, why not have Tess and Todd running 'The Sun'?  Why not have them team up in business?  Despite the fact that they're both a brick shy of a load, having them work together somehow makes each of them seem less psychotic.
All My Children – Annie!  Annie, Annie, Annie… the writers wait until the very end to make her interesting?  WTH?   Too bad, this show needs a character like Annie.  Dealing with a dillweed like Ryan would push almost any woman over the edge, at least Annie's insanity is entertaining.  I want Annie to stick around, and make the rest of Pine Valley miserable, at least until her plots are foiled she moves on to the next one. Can you imagine and Annie-Adam pairing?  Krystal, who?